Happy Monday! Welcome back to the Countdown to Halloween! Grab the button and link up with us!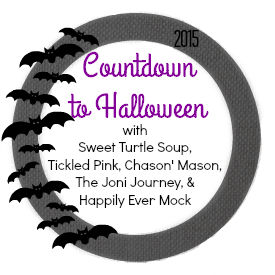 I had a TERRIBLE cold last week, but that didn't stop us from having some Halloween fun! I felt like laying on the couch in front of the TV a lot this week so (MOTHER OF THE YEAR AWARD) Hallie and I had a Halloween marathon and watched some great
Halloween specials
! Here's what we watched!
Charlie and Lola "What Can I Wear for Halloween"
Mickey's Treat
Mickey's Monster Musical
I also finished our
decorating
this week
Look at those teeny toes! We made this last year!
The candles and pumpkins all light up
Saturday night was girls night! Daddy was working late, so we took the opportunity to have a fun
Halloween themed bath
, eat yummy
pumpkin bread
and watch Mommy's favorite Halloween special "
It's the Great Pumpkin Charlie Brown"
I mixed up some bath paint in Slime Green and Purple People Eater Purple (Lookout for the recipe this week!), pulled out the Halloween rubber duckies, and tried Courtney's Glowstick bath trick!
She LOVED the painting the walls and her ducks!
THAT FACE!
Even our new friend "Stan the Fish" enjoyed the fun!
After bath, we wrapped up in our Owl towel! Hallie kept saying "Hoo Hoo"
Then we put on our skeleton PJs and read some library books
Even Puppy got in the Halloween spirit
Then we snuggled up for Charlie Brown
"Gosh Mom! I'm trying to watch!"
Pumpkin Bread! (This week that bread is turning into something else delicious, watch for that next week!)
We also did some Pumpkin Painting this weekend!
Hallie picked a perfect pumpkin at the grocery store
Then Mommy turned it into Mickey Mouse!
Hallie just loved it! We might have to make a Minnie one next!
<3 Kelly