On Sunday, Hallie and I went with Family and Friends to the Pumpkin Patch,
She was super tired, but here are the adorable pictures that we got!
Hallie and Cousin Brayden
Silly Baby
Hallie and Tia Joyce
Hallie and Cousin Hannah
Hallie and Auntie Katie
Mommy, Hallie and Brayden
Mommy and Hallie
Me and Amanda (My sister's bestie)
Me and my Cousin Hannah
Me and My sis!
Me and Joyce, the bestie!
Me and my cousin Hannah
I can't wait until next year! I bet Hallie will really enjoy the pumpkin patch then! We did pick 3 pumpkins by the way, I don't know why it never occurred to me to get a picture of Hallie with
them, or even a picture of them at all for that matter! I'm going to blame this one on Mommy brain!
We got a Daddy sized one, a Mommy sized on and a baby sized one! I will definitely get their picture before cutting them open! Promise!
Also stay tuned, the finishing touches went onto my costume last night!
Hallie and I are officially ready! Bring on HALLOWEEN!
<3 Kelly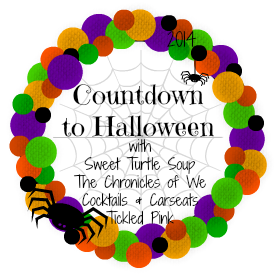 Linking

up with Sweet Turtle Soup