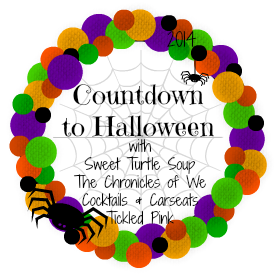 Linking up with Sweet Turtle Soup
Happy October friends! October is one of my FAVORITE months out of the year! I love how festive it is! All the pumpkin and Halloween decorations, and if the weather wold just take a hint...ahem...(95 for a high in October is unacceptable)....we'd have it made!
If you would like the directions on the linkup head over to Sweet Turtle Soup, aside from the direction's you will get to see tons of cute pictures of Courtney's cute little one!
Anyway, as I was saying, I just love October. I am super looking forward to when Hallie is old enough to celebrate with me and enjoy all of the decorations, fun crafts and festive food, but for now, I will just take her along for the ride and create memories for mommy to cherish!
Over the weekend, Hallie and I attempted a fun Halloween craft I found while Pinteresting! With the help of my mom, who held a reluctant sleepy Hallie while I painted her toes white, we made footprint ghosts to share with Family and friends! Here is the one I am planning on framing to put on our mantle each year:
It turned out pretty cute! We are also going to attempt hand-print spiders...assuming I can get her to fall asleep in a good position without getting paint everywhere...be looking for an update on that!
Also, if you missed my blog with Hallie's 3 month pictures, here are some cute Halloween ones we got. We also got some of her in her costume....buuuuut...I am still holding on the that adorable surprise, so stay tuned!
Hope everyone has a good Tuesday!
<3 Kelly